November 2011
Happy 200th Birthday, C.F.W. Walther!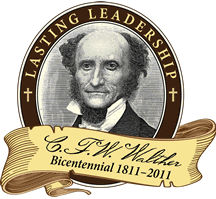 It is October 25. I am sitting down to write an article about a man who died 89 years before I was born. You might not know very much about this man, but he had a profound affect on your life and my life too. If it were not for this man we likely would not have a "Missouri Synod," and may not have a congregation of Lutherans gathered here in Adell. If it were not for this man, who knows if I would be a pastor, or be a pastor in your congregation? In any regard, today, on the two hundredth anniversary of his birth, I sit down to reflect on a man who, because of his convictions, left Germany and came to America that he might freely preach and teach the Bible. On this day we thank God for his life and remember his accomplishments and the witness of his faith. "Happy 200th Birthday C.F.W. Walther!"
While Walther is the most important figure in American Lutheranism in the 1800's, many of us know little about him. Consider, for a moment, the following important facts of his life which bear relevance to our church body and congregation even to this day:
He was born on October 25, 1811 in Germany. He was the eighth of twelve children. Walther came from a long line of pastors, his father being a pastor, and his grandfather and great grandfather being pastors too. His full name was Carl Ferdinand Wilhelm Walther. No wonder we shorten it to CFW!
While Walther was born to a bible-believing household, he grew up in a time of great spiritual decline in Germany. The church was being attacked by the philosophical beliefs of the day. (We aren't the only ones to live in the time of religious struggle.) He was sent away at a young age to private school, yet by the time he was 18, he didn't even know the Ten Commandments by heart and couldn't recite the list of the books of the Bible. When he entered the university he did not even own his own Bible even though he was training to become a pastor! Almost all of Walther's professors in the theology department had forsaken God's Word and told their students to do the same.
As a young man Walther felt that "he only had music in his heart." His father, likely not wanting him to become a "starving artist," offered him the equivalent of a dollar a day to study theology instead. His love of music (he was an accomplished pianist and organist) would later prove useful as he would organize a hymnal and put his hand to several hymns. One of his hymns (he wrote the text and composed the music) appears in our hymnal, a hymn we sing at Easter entitled, "He's Risen, He's Risen," LSB # 480.
At the University of Leipzig his older brother, also a pastor, introduced him to a group of Christians who had not rejected the Scriptures as the divine Word of God, and who held to the grace of God in Jesus Christ. Walther later recalled that it was there that God began to work on his soul by means of His Word bringing Him to faith in Christ. The group gathered together several times a week to pray and to read God's Word.
After serving as a pastor briefly in Germany, Walther immigrated to America with some of his likeminded fellow Saxons. Of the 750 who left, there were seven pastors, eight men trained in theology, four school teachers, three physicians, an accountant, and a lawyer. On the journey to America one of the five ships sank. All people on the Amalia lost their lives.
Walther's ship arrived in New Orleans on January 5, 1939. A few weeks later his group traveled up the Mississippi River and settled in St. Louis and immediately began to form Christian congregations. Walther soon became the head of this fledgling colony of Lutherans.
Very soon after coming to America he established a log cabin school where they could teach the Bible and other necessary subjects to the next generation. He was its first president and also one of its professors. Today that school has been in operation for 173 years and is known as Concordia Seminary in St. Louis.
In 1841 Walther married Emilie Buenger. He and his wife had six children.
In 1841 Walther accepted a divine call to Trinity congregation in St. Louis (his brother had been the pastor there and had died of typhoid fever after serving for only one year). He held the position to his own death. Trinity was the first Lutheran congregation west of the Mississippi! The congregation also started three other congregations in St. Louis who all wanted Walther to be their pastor. On Sunday morning he would preach at all four congregations scattered about the city.
Walther edited a newspaper called "The Lutheran" which was published in the German language and advocated for Luther's doctrine and clear Biblical teaching. The newspaper was distributed far and wide and ultimately got the attention of a group of Lutherans in the Indiana, Ohio, and Michigan area. These two groups later united together to form the Missouri Synod and made Walther its first president. Other Lutherans were present in America during that time, but they were liberal minded and not focused on the pure teaching of the Bible.
As you are seeing, Walther wore a lot of hats, even all at the same time! He even started a publishing concern which later formed into the official publishing company of the LCMS known as Concordia Publishing House, still in operation today.
He wrote several books, his most famous, "The Proper Distinction Between Law and Gospel." This book still serves as the main textbook in our seminaries in training pastors to preach. In it the distinct Law and Gospel approach that marks Lutheran preaching was taught and explained.
After confessing his faith in Christ Walther died in St. Louis on May 7, 1887, and was buried at Concordia Cemetery in St. Louis. A mausoleum was later constructed there in his honor and still stands to this day.
For Walther, the Bible was the only source of religious and theological knowledge, and the only measure and plum line according to which all doctrines and teachers and controversies were to be judged and evaluated.
In commemoration of C.F.W. Walther's 200th birthday, a full length feature film and commentary on the life of Walther and the German emigration was produced by Concordia Seminary in St. Louis. We will study this video and review its accompanying materials over the course of the next month and a half during our Thursday morning Bible Class (6 sessions beginning on November 3). Walther likely would never have won a beauty contest, yet through his witness we learn about our heritage and are encouraged in the faith. If you are unable to come to the class but wish to look at the materials on your own, please contact me and we will arrange you to use them.
In Christ,
Pastor Seifferlein
Matthew 26:75 — Before the rooster crows, you will deny Me three times."